Warning: This post will be long.
To start, I began my project with the crazy notion that I could speak for twenty minutes on what an elegy was and why it had anything to do with 9/11 specifically. I ended up google-ing "9/11 elegies" and finding a wide variety of mediums. A lot of people were deeply moved by 9/11 which can be seen by massive amounts of bad poetry and photos saying "We will never forget." I started my project by talking about one of these examples where a writer named Francis V. O'Connor wrote a poem called Birds of Fire. Throughout the poem the words of terrorists, children, and victims serve as breaks in the text. The poem is long – 13 parts long, to be exact. And, "it's not very good" (JGB). However, nobody said you have to be good to write, especially in emotional times.
Robert Pinsky wrote the next poem in my presentation, a poem simply called 9/11. The poem is a little odd in the fact that it has an almost sarcastic tone to it. We don't expect each individual line to follow the one before it. The transitions between lines are abrupt and startling. Pinsky was Poet Laureate when the 9/11 attacks occurred and was asked to write this piece for the Washington Post. The tone of this poem was completely different than the tone of O'Connor's poem.
Philip Rostek works with a multitude of mediums and for his 9/11 elegy he used music. The video I intended to show to the class can be found here. When I searched for a musical elegy, this was the first piece I found. Not only that, but there were a good amount of videos with this song being performed in schools. Middle schoolers and high school students played this song for a recital to commemorate the attacks. Other videos showed professionals playing on school stages as children sat on their gymnasium floor watching. I think this is interesting because of all that schools do to keep 9/11 such a secret. After seeing Kasey's presentation I find this even more interesting because the teachers here are clearly presenting 9/11, but it makes me wonder if they're actually teaching about what happened and if they are, how they're teaching it. As something positive?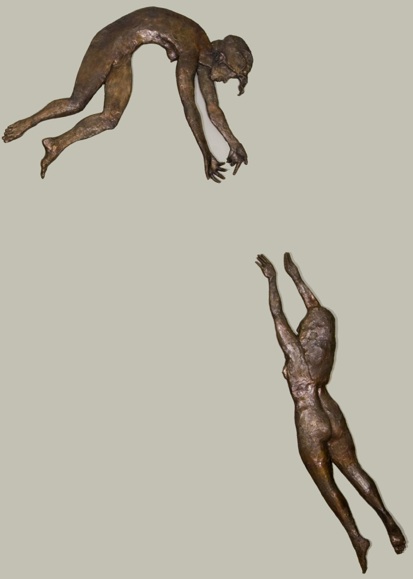 John Waddell's Rising sculptures put an interesting spin on what we've been learning about all semester: falling. We've read a book titled Falling Man, read another book about a boy obsessing over his father's death and how perhaps he was one of the victims who jumped. We discussed in detail in class a sculpture that looked like it was modeled after a falling form from the towers to moment the woman's head was making contact with the pavement below. Waddell's inspiration behind this project was that he was sick of hearing about falling. The picture to the right shows two figures, which can be viewed a few different ways. The artist's intention was to have both people lifting into the sky, one reaching for the other as they ascend. I think the top figure is in a contorted position much like someone falling would appear. Also, the figure below looks as if she has slipped out of the man's grasp and is now falling into the below.
Dark Elegy is a s
culpture project by Suse Lowenstien. She made the sculptures as a portrait of grief of the mother's suffering the loss of their children. The project was inspired by Pan Am Flight 103 which was hijacked and crashed killing all of the passengers aboard. Many college students were on the plane including Lowenstien's son.
I'm not an artist by any means, nor do I claim to understand art in any way. Linda Tharp painted a series she called 9/11 Elegy. I picked her art
work for this project because she is a New York resident. The pictures, in my humble and probably wrong opinion, represent different stages of that day and the recovery process. The first photo is of buildings, towers almost, reflecting in water. This could represent the dissolving of the towers. The second and third images could represent the sky and smoke as the buildings fell, and the final image could be how Tharp saw the buildings as they went up in flames.
To conclude this post, (and you're all thinking, "FINALLY!") I have a few words to say on Ejay Weiss and his 9/11 elegy. Weiss watched the 9/11 attack out his apartment window. He titled his piece "9/11 Elegies: 2001-2011" and there are 12 images in all. His project was very emotional for him because the attack took
place so close to his home. The images concretely show the attacks and Weiss's thoughts. In on painting he even includes dust from ground zero which he gathered a few days after the attack. About his project Weiss says, "I didn't want to paint these. It's catharsis. It was the only way I could continue."
In short, there's nothing that can be said briefly about elegies, especially the ones pertaining to 9/11.